Katahdin June 2005 Part 2
When time came to make a decision and move on Josh was set to go down Helon Taylor. He wouldn't talk much and didn't want to stand, eat or move from where he was because he was so scared. He told us we could go on to the Knife edge if we wanted to but he was going down Helon Taylor. I think Mandie and Greg where set to give it a try. I was torn, I wanted to try the Knife edge but I didn't want to leave Josh. I was set to go with him in the end. But he told me I should go with them, help them, guide them. He said he would be fine. I knew he would be fine but I didnt think I would be. I took the map from him and packed it. We headed toward the edge of the Chimney then I turned around and started crying on Joshs chest. I was afraid to do it with out him. I felt I wouldn't make it without him there. It felt wrong, and empty feel of dread, like I would be doing it without one on my feet or hands, like I was doomed to fail.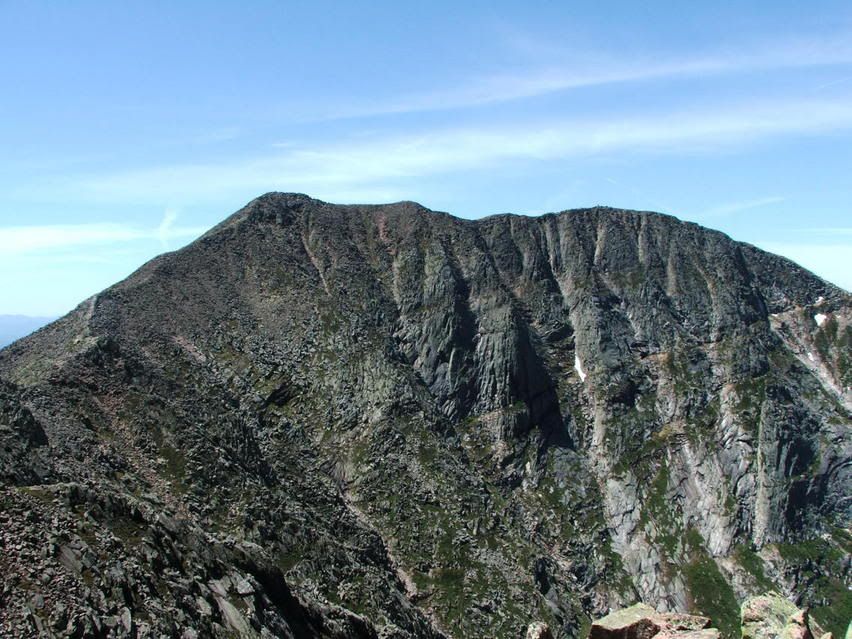 I could hear Greg behind me. "aww Loni we don't have to go." As much as it felt wrong without Josh I couldn't let Greg and Mandie down, plus I still had a draw to do Knife Edge. I wiped my eyes and began to follow Mandie and Greg down the Chimney. I kept glancing back at Josh at the top as we climbed down. When we were a little more then half way down I heard some one climbing down behind me. I looked up, it was Josh. Very nervous and tight jawed. He said his wolf instinct kicked in and he couldn't leave his pack behind. That and thought of sitting and waiting for us come down off the mountain would have killed him with worry. I was still fighting back tears but felt immensely better with Josh here with me, but at the same time felling horrible for josh because he was terrified.
We got to the bottom of the Chimney and began toward the other side. It started to look more difficult. We started to climb up Mandie, Greg, me then Josh behind me. Before me and Josh started up Greg dropped his walking stick. It missed both of us and we passed it back up. Climbing the rocks up the Chimney was the worst part of the hike so far. I felt too short to reach, wasn't confident of some of my grips and didn't feel comfortable at the angle we had to climb, strait up, not angled forward like Dudley trail. The only comfort and confidence I had at points was that Josh was with me. When we reached the top we all paused except Josh who nervously threw clenched jaw said keep moving. I took the lead with Josh behind me followed by Greg and Mandie. Josh urged me to be careful. The reminder was not needed but much appreciated. The spectacular and terrifying drops on either side of the trail was a good reminder to be careful. As I worked my way along with a white knuckle grip on every rock I grabbed, I found slight comfort in how solid the rocks were and none shifted. The climb down the Knife Edge form Chimney peak was by no means easy even with solid rock to grip. I had to carefully step, scoot, crawl, climb and even lower and drop myself along the trail with the looming drop offs on either side of me. I paused for a rest and Josh hesitated and then moved by me and proceeding on wanting only to get to the other side. I glanced back to make sure Greg and Mandie were ok. Feeling a little bad about leaving them, I continued after Josh. I couldn't keep up with his pace. He would turn around and tell me to be careful and continue on. Some times I would catch up to him when he stopped to talk with people going the other way. Once I caught up to him while he was refilling his water bladder. Any time I caught him we'd share a kiss. If I told him he was brave, his response was don't say that because he was so nervous and trying not to cry. He said he was glad he had sunglasses so people wouldn't think he was crazy because his eyes were red from crying. I kept checking back for Mandie and Greg. They were still moving along but further back.
The last real hairy part was a real narrow part of the trail. It didn't seem much wider then a foot. I saw Josh basically dance/run over it and or away from it. I tried not think about it to much and quickly crossed over it and continued after Josh. Some people that passed me going the other way just seemed to stroll on by as I clung to the rocks, moving one foot at time, testing each step and grip. Whispering hello to some of the spiders, making peace with the mountain, as I climbed past them and they scurried off.
We finally started to go up hill toward South peak. The trail became some what easier. It was mostly walking on the rocks and not climbing around and over them and a little wider, but some the rocks would rock/shift a little making your heart jump. Anytime the wind came up I griped the rocks till it died down. The wind was just strong enough to make you feel uneasy but not terrifying. We finally reached South peak and Baxter Peak was in sight. There were ravens soaring around the peaks. I was happy to see them. Usually shy intelligent bird. They are meaningful to me because many times hiking I hear them but never get to see them, always elusive just out of sight. Josh on the other hand saw them more like vultures looking for helpless hikers.
The trail from South peak started to get wider and the rocks easier to walk on, especially with the end in sight. When we reached Baxter peak we went past it and sat near the wide open secure grassy tableland and waited for Greg and Mandie.
We they arrived we broke out lunch and the beers and breathed. We spoke of 'glad we did it'' that was stupid' 'never again' 'crazy' 'amazing', 'wonderful but stupid'. We ate and drank and took pictures. I put on my knee brace. We looked down the trail that crossed the tableland and then just dropped off the side into the pink granite rock slide. That was our easy trail down. We started out on the trail across the table land. As we continued down the trail it continued to be more and more loose rock that was difficult to walk on. Rolling many an ankle as continued on looking around us. It looked crazy to go down Saddle Slide trail the way it just dropped off the edge. We glanced back at Knife edge stupid doom never again. We could see dots of people walking across Knife edge. Over by Pamola peak we could Index rock, the tree stump, sticking out of the side of the mountain.
When we arrived at Saddle slide we paused for moment looking down the easy trail and far below it could be seen threading threw the forest back toward Chimney pond. We started down, it wasnt hard but shaky and unnerving because it mostly loose rock.
We kept going down and down hoping for an end to the rocks when got to the trees, but it never came. The rocks continued through the trees. Mandie would disappear ahead and we would eventually catch up only to have her vanish ahead again. Josh rolled his ankles a couple of times but kept on with out an issue. I was surprised I hadn't rolled my ankle with my low top shoes. Then I landed odd on my right foot, but it wasn't the ankle it was the foot itself. It hurt for a few seconds then I continued on and it seemed fine. Finally the rocks receded a little and there was some ground between them. Then I landed funny again on my right foot. This time I noticed a little discomfort in my foot but not a lot, only if I flexed it a lot.
It seemed to take longer them planed to finally get back to Chimney pond. We were behind by about 30 minutes, not to bad. We crashed on the rock beach of the pond for a rest and snack. We scanned over the mountain retracing were had been hours before with our eyes. 'stupid' 'never again'. I was happy and proud I did it. But was dreading the 3.3 miles ahead of us still. I was wishing and hoping it would just blow by. Looking back to Katahdin I knew I wanted to come back here. Maybe not to do Knife edge but at least back to Chimney pond. The weather had been perfect for this hike. I had loved the climb, sights, challenges, fears and emotions. Life, real life. Something I didn't ever want to let go of, but had it feeling it would fade once back to normal life in New Hampshire.
With reluctance we packed up and began the trek down. I took the lead and tried to set a fast pace down but it didn't last long. My feet started throbbing. I gritted my teeth and continued down. We stopped on a board walk shortly and continued on. My feet felt better briefly but the throbbing soon came back and I was no longer leading. By the half way point Greg and Mandie were ahead as Josh walked with me. I finally ran out of water and stopped to fill my pack bladder when we caught up to Mandie and Greg. We continued on and Mandie slowly disappeared ahead, leaving the 3 of us with me leading. Then near the ended I looked back and Josh wasn't in sight so I stopped and waited for him while Greg continued on. My feet hurt and welcomed the rest. When Josh finale caught up and he said he had stopped to look at Roaring brook. We started back down the last part of the trail. It was the longest 3.3 miles I ever hiked.
At the end of the trail we went on the bridge to look at Roaring brook before meeting up with Mandie and Greg in the parking lot. The brook was beautiful and refreshing. Its water was crystal clear as it flowed over different shades of granite and stones. I told Josh I didnt care how cold that water was I would swim in it given the chance. It was so pure and clear that it be worth it. We returned to the trail and back to the parking lot. I stopped at the privy and took of my knee brace and zipped off my pant legs for the first time that day. We piled in the truck and began the ride back to camp thinking about how good the showers were going to feel.